40+ years in the industry – 4th Generation General Contractor
Around 1919, at the age of 16, Ira Green headed west to follow his dreams to Carbondale, Colorado where he put his skills to use. It wasn't long before he realized the need in his area for a Carpenter. He settled in and started a small business building structures for local residents. During the 1920's, he completed many homes and commercial buildings up and down the Roaring Fork River Valley.  By the 1930's Ira was raising a family and STILL improving upon his skills while building many of the railroad bridges from Glenwood Springs, Colorado, westward.
Ira's son Ed completed his tour of duty as a US marine during WWII and joined his father's company not long after. Ed settled in Fountain, Colorado, and recognized the need for skilled general construction workers like his father.
Ed, Ira, and several other business partners formed a construction company and over the next twenty years, everyone in the organization consistently grew with the front range of Colorado. 
As the company grew, its reputation as experts in the field of construction grew as well. In turn, Ed Green Construction was afforded more opportunities to build our customer's dreams.
After Ed welcomed his oldest son Fred home from Vietnam in the mid-seventies, Fred stepped into the family business, and Ed Green Construction was born.
Sadly, in 1994, Ed passed away. Stepping into his father's role, Fred saw to it that the Ed Green Construction name continued to thrive as Ed would have wanted it.
In 2010 Fred's oldest son, Josh, stepped into the role of Co-Owner, ensuring Ed Green Construction will continue for another generation. While seeing the company through an economic recession, Josh and Fred continued to raise the bar for the construction industry by holding true to their company values.
Along with the help of the community, this "core value" business model has provided steady growth for Ed Green Construction. So much growth that Josh has since made it a priority to give back to local communities. He has donated time and money to schools, is a regular sponsor of the El Paso County Fair, supports children involved in the 4-H programs, and is always looking for new ways to give back to the communities that have helped grow this long-standing company.  
Josh Green
Owner, Vice President Managing and Building Services Director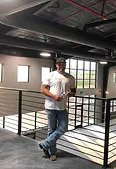 Cory Hurd
Lead Estimator Construction Manager Bid Coordinator / Sales
Rebekah Combs
Office Admin / HR Bid Assistant
George Langridge
Construction Foreman